Preparation
Details

Written by

john smith

Category: Uncategorised
Hits: 118
Cold Applied Plastic (CAP) line marking is an incredibly durable and long-lasting alternative to waterborne or thermoplastic line marking methods. It is a two-part solution of a pigment resin and a catalyst that cures very quickly, even at low temperatures.

CAP offers several advantages over waterborne and thermoplastic line marking:
Fast drying allows for minimal roadway closure times.
The high friction texture results in a gritty non-slip finish, greatly reducing the risk of vehicles aquaplaning or pedestrians slipping.
Extremely durable product allows for an extended product lifecycle, reducing cost over the lifetime of the product while maintaining colour and non-slip properties.
Very strong adhesion to roadways and footpaths reduces chipping.
PWS will assist in every aspect of your project including design and consultancy where we can come out and measure and design the carpark or warehouse layout to optimise the usage of space.
To get a free quote or arrange a site visit, call us on 1300 76 44 77.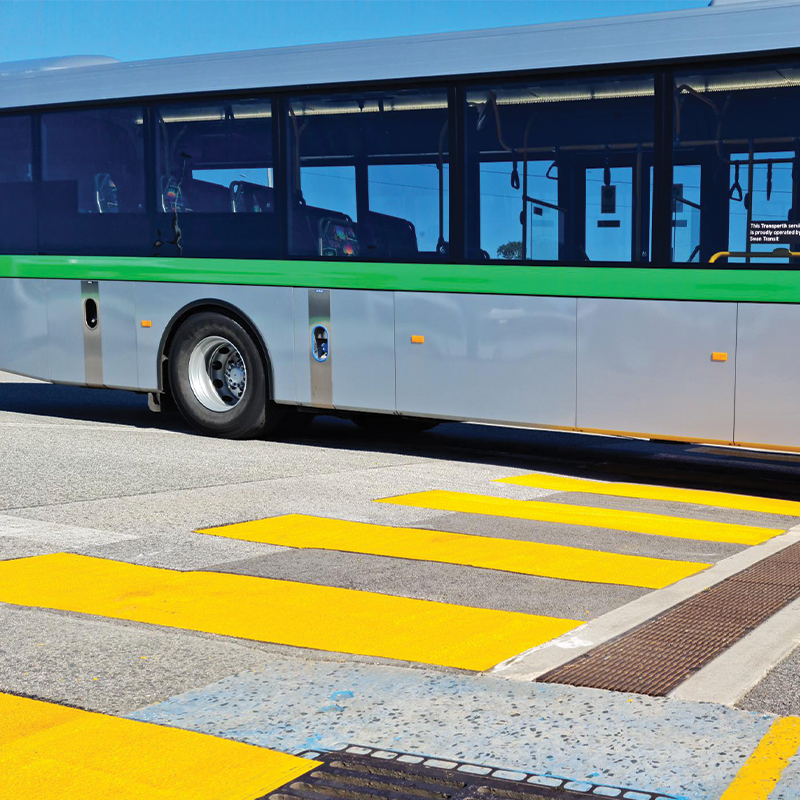 Details

Written by

john smith

Category: Uncategorised
Hits: 2800
Sydney Line Marking is a division of Premier Workplace Solutions (PWS). PWS manufactures, supplies and installs a wide range of commercial safety products designed to achieve safer work environments for employees, stakeholders and the public.
Our product range includes, but isn't limited to:
Bollards
Wheelstops
Speed humps
Pedestrian and Vehicle Barriers
Height bars
Bike racks
Cable covers
Safety mirrors
Click here to visit our website to view our full product range.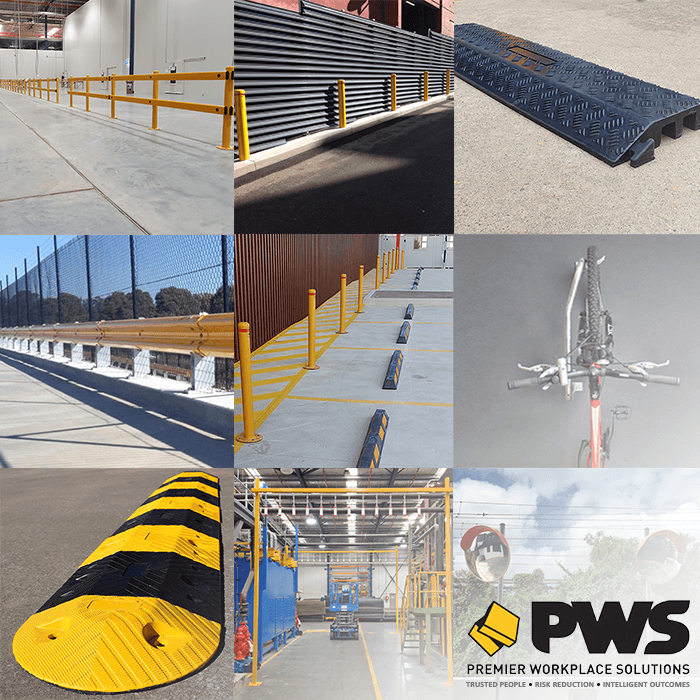 Details

Written by

john smith

Category: Uncategorised
Hits: 2434
Concrete sealing is a process of covering freshly dried concrete with sealing chemicals that protect it from surface damage and discoloration. The sealing process is also used in adhering the concrete dust to the ground which can otherwise become a respiratory hazard in non-ventilated areas.
We use Viroseal water born concrete penetrating sealant in our sealing projects. It's an environmentally friendly concrete sealing solvent systems that out-performs alternatives in areas of chemical resistance, wear, heat and UV resistance.
To get a free quote or arrange a site visit, call us on 1300 76 44 77.
Details

Written by

john smith

Category: Uncategorised
Hits: 2659
Shot blasting
Shot blasting is a process whereby small metal beads are fired at high speeds onto the concrete surface below and then sucked back up into the same machine. The impact of these beads causes the surface of the floor to break up and come away (to a depth between 0.5 and 2mm), exposing a fresh, unsealed surface. Shot Blasting is typically used to:
Make a surface course for line marking, allowing for a greater chemical bond between line marking paint and the ground, increasing its lifespan.
Completely remove existing lines from the ground
Shot blasting isn't always essential for line marking but is the preferred preparation method by most paint manufacturers.

Chemical removal
Depending on the type of paint previously used, it is possible to soften the paint using chemical thinners which allows the softened paint to be scraped away. This is a relatively labour-intensive process and sometime difficult to remove all residue.
Grinding
Concrete floor grinders come in a variety of shapes and sizes. Paint and the top layer of the surface are simply ground away by mechanical action. Finishes can vary in coarseness dependent on the type of grinder used. Grinding typically uses a circular action making it difficult to provide straight edged finishes.
Shot Blasting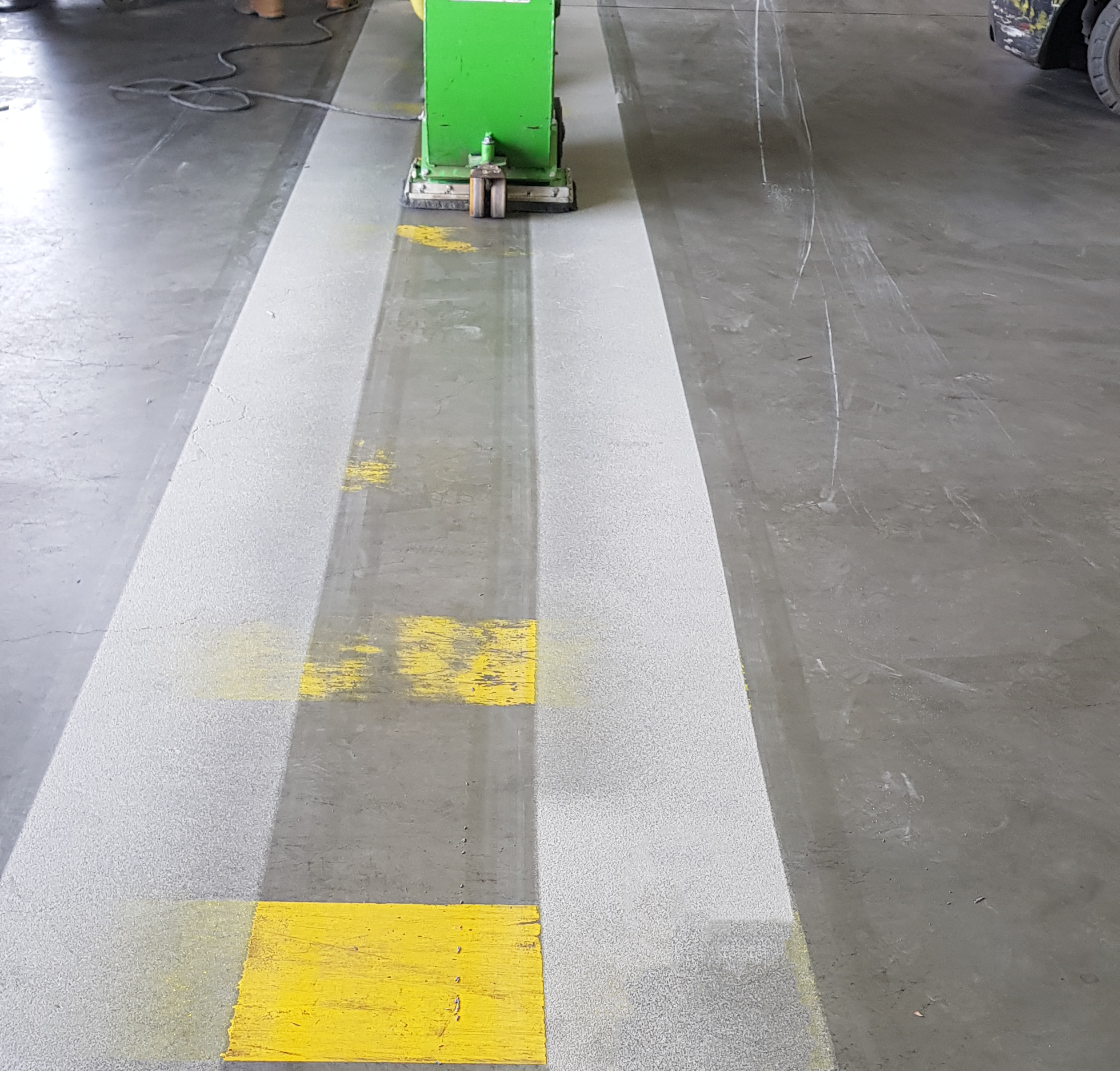 Bitumen paint removal - Bush head hammer
A grinder with a 'bush hammer' head is commonly used for removing paint on bitumen. The bush head hammer uses a spinning disc with small spikes to scrape away the surface level of bitumen.
To arrange a free quote or site visit, contact us on 1300 76 44 77.
Bitumen Paint Removal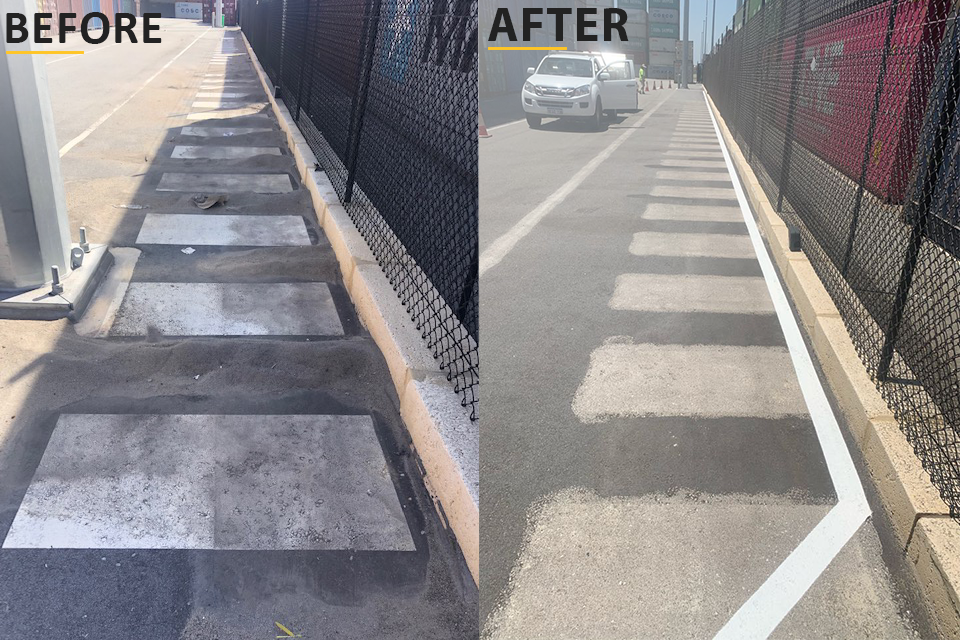 Details

Written by

john smith

Category: Uncategorised
Hits: 2386
Investing in line marking or floor coating can be a considerable undertaking, so believe the right preparation is the first step in achieving the desired outcome.
Without proper concrete cleaning, chemical sealing and line marking will be largely ineffective as the dust will not allow the chemicals to properly adhere to the floor. We offer professional concrete cleaning services with Australian standard sweeping and scrubbing machines to ensure that your site is both presentable and ready for line marking and chemical sealing.
Australian standard sweeping and scrubbing machines
Power scrubbing
Acid washing
To find out how we can help you and to arrange for a site visit, contact us on 1300 76 44 77 to talk to one of our specialists.